A big fuss in Champaign-Urbana this week:  the much anticipated Nike uniform brand update happened at the Krannert Center, with Illini athletes from the various sports teams modeling the new look.  It's a pretty big deal for the University of Illinois in this era of brand identity, intensive marketing, and team gear residual sales.  We get a new look, a unified new font, an updated shade of orange that's easier to mass reproduce, and 1LL1NO1S.  We get two logos, one new and one very familiar:
We have Nike marketing guys talking about how they studied the history and tradition of the University of Illinois athletics, how they incorporated the Galloping Ghost, etc.  Our type face that "leans forward ready to take on the competition", with "sleek and powerful serifs".  It looks good – don't get me wrong.  The design elements are slick; I really like the look of the football uniforms; the orange really pops, and the Victory Badge look fantastic on the volleyball shirts.  Check the official gallery.
But they seem to have forgotten one very important detail:  We are FIGHTING ILLINI.  If you look at the new unis, you see a lot of 1LL1NO1S, but you don't see much Fighting Illini.  The question for most of us:  was this a Nike call or a University call?
Every since the great debacle of the End of Chief Illiniwek, many alums and other Illini supporters have watched carefully for subtle hints of the University moving away from the 'Fighting Illini' nickname and identity.  We were really hoping to see a re-emphasis with this re-brand.  What do we get?
Pretty cool, but where is it?  Oh, there it is…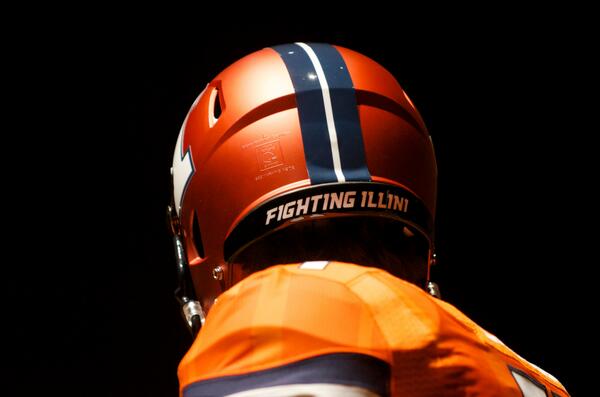 Not exactly prominent.  Not exactly emphasized.
Now John Groce was quoted at the event as saying there are additional variations on the hoops uniforms that haven't been released yet – so maybe, just maybe, we'll see the 'FIGHTING ILLINI' where it belongs in the near future.  That means on the fronts of uniforms, within Memorial Stadium, Huff Gym, and the State Farm Center.  Not just 1LL1No1S in the end-zones, baselines, etc. but 'FIGHTING ILLINI'.  On gear I can buy for myself and my kids.
Are you listening, Dept. of Intercollegiate Athletics?  Do you hear us, sports marketing department?
We've come to terms with the fact that the Chief is gone and the logo many of us grew up with is no more.  

You can change the shade of orange, but please don't try to change our identity.